Over the years we have had so many meetings with our fabulous couples turning their wedding floral concepts into reality and although we do this on a regular basis each and evey wedding is different and we love being a part of this wonderful journey
Once we have set up an initial meeting with our couples, most of which take place at the shop, we sit and discuss a range ideas and options and make lots of notes
With so much to plan for a wedding i'm hoping you will find some useful hints and tips in our "wedding floral tips" blog
If possible, arrange a face to face meeting a zoom meeting or at least a phone call with your florist


Have rough idea of what you would like - colour scheme, flower preferences (if any), theme (if you have one) popular choices recently have been rustic/natural/relaxed the style of your venue may influence your theme


Pinterest - this is the perfect tool for creating a live mood board full of wonderful ideas I would suggest setting up a secret board, you may not know what you want initially, but we do tend to know what we don't like! Sometimes just searching your venue will reveal some great examples of previous venue dressing that may inspire you.
We always set up our couples Pinterest boards as we quote, and if our couples have images on their own boards it's easy to just send them over.


It's good to take a few screen shots of designs you like maybe email these to your florist to give them the heads up if you don't know, don't have/can't find any images you like - don't worry we wonderful florists will always come up with ideas and options to get the ball rolling.


Make a few notes about requirements, the finer details can always be sorted closer to your date but for starters a few notes about what you think you may need will help e.g. couples floral, bridesmaids, flower girls, buttonholes, corsages (usually for mothers of the happy couple) thank you bouquets, venue styling, table decorations etc.


if you do have bridesmaids - think about repurposing their bouquets as table decorations after the ceremony/photos venues are used to doing this and not only it cost effective, it makes excellent use of the bouquets and when your fabulous bridesmaids go home their flowers are still nice and fresh, if you have a hand tied design yourself you could use this on guest/top table too, if you have bridesmaids dress fabric left over after alteration this can be used around the stems of hand tied bouquets.


if you use a low display for your ceremony this could be repurposed as a central display for your top table.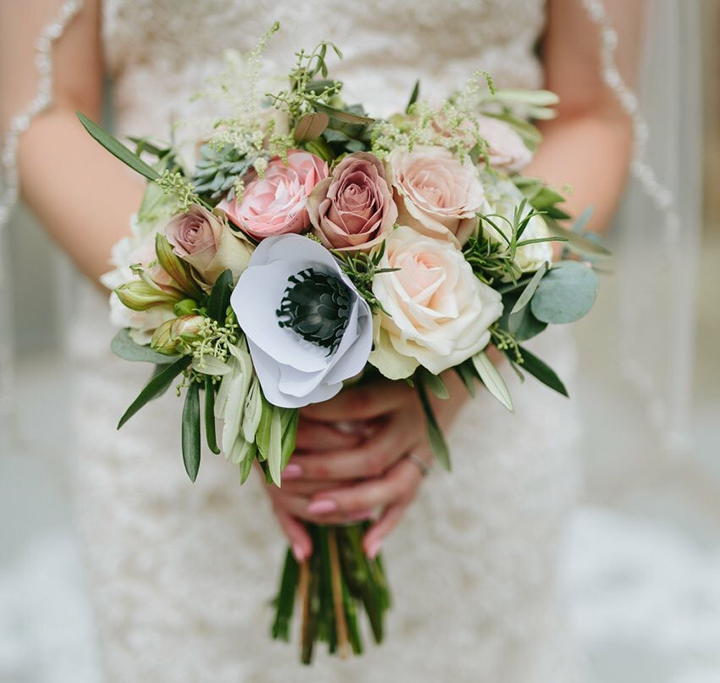 Keep to seasonal flowers where possible, be aware of peak periods such as Valentine's Day, Mother's Day etc. flowers are at a high cost at these times


Buttonholes - for the groom(s) it's nice to have something a tad different to the rest of the male guests it may be a slightly different bloom or a flick of fine ribbon to the stems that ties in with what you are wearing, the remaining buttonholes could match up with a flick of fine ribbon or a hint of bridesmaids dress fabric that matches the bridesmaids dresses, a small attention to detail but works really well.


Corsages - usually mothers of the happy couple have these, it may be worth asking your florist to pop the design on a magnet attachment to save pinning through their outfit (always double check they don't have a pacemaker fitted) the magnets work well on handbags too


Always have a rough idea of budget, this will help your florist when quoting, things change quantities etc but to have some idea of spend at the start is always advisable.


Flowers are perishable and we usually order our stock a few weeks before your date, we suggest a final meeting to finalise requirements around 12 weeks before the wedding. This is what we do other florists may differ.
We hope this list helps you - for more inspiration check out some of our own wedding flowers and arrangements.
If you are getting married and looking for a Wedding Florist then why not book your FREE wedding consultation with Penny Johnson Flowers today!